Tushar Singh | Published on October 12, 2022
Subscription fatigue hitting OTT Platforms, What is the way forward?
2023 is going to be a very exciting year for the OTT players as there is high competition and also the content pipeline in the OTT industry will be stronger than ever. As the pandemic has increased the viewers, most of them have got acquainted with the new lifestyle over the period, therefore in the year 2023 it is expected to further amplify the reach
But here comes the bullet that OTT Apps are not able to dodge at these times: Subscription Fatigue. It means as the subscription fee increases it starts the exhaustion in customers. This causes a potential decrease in consumer interest in subscription services over time as the total offerings among competitor OTT platforms also increase.
We have talked about Shopping as Entertainment earlier and short videos as a key driver of Social Media and when we converge these two phenomena something game-changing comes into being - Shopatainment.
Subscription over-the-top TV (OTT) services have become ubiquitous. In the U.S., more than 50 million viewers currently subscribe to Netflix's streaming service, Amazon Prime is reported to have over 60 million subscribers, while Hulu counts an estimated 12 million subscribers. In addition to the "Big 3," in recent years, various sports, special interests and other OTT services have been launched and subsequently grown.
Subscription fatigue is a serious thing, especially as prices continue to rise. A recent subscription fatigue 2021 report says 52% of consumers have difficulty accessing content divided across many subscriptions. Consumers are also price-conscious, so rising prices happened in the previous years is the cause of frustration. 2022 Streaming Study reveals: Even though most users are streaming more than pre-pandemic, subscription fatigue is starting to show. In fact, more than one-third of users are likely to cancel a subscription in the next year. Having lost more than 1,000,000 subscribers in the first two quarters of 2022, Netflix is looking at a dramatic slowdown leading to shares tumbling more than 65 per cent over the past twelve months
Recent Global Streaming Study by Simon-kucher, surveying more than 10,000 respondents worldwide, underlines the rising trend of subscription fatigue. Even though subscribers are watching more content than before, 45 percent are likely to unsubscribe from a service in the next 12 months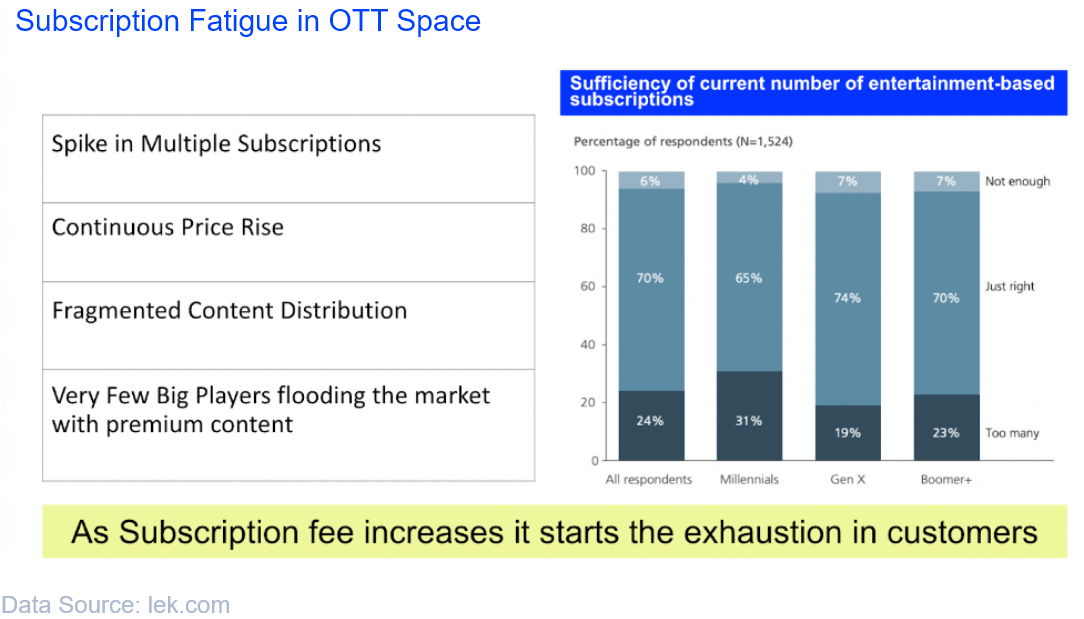 The rapid ascent of the subscription entertainment industry raises key questions, including:
In what ways can service providers help consumers manage their subscriptions?
Who will consumers ultimately turn to for guidance?
While 70% of consumers across different age groups believe they currently have the right number of entertainment-based subscriptions, a net of 18% felt they had too many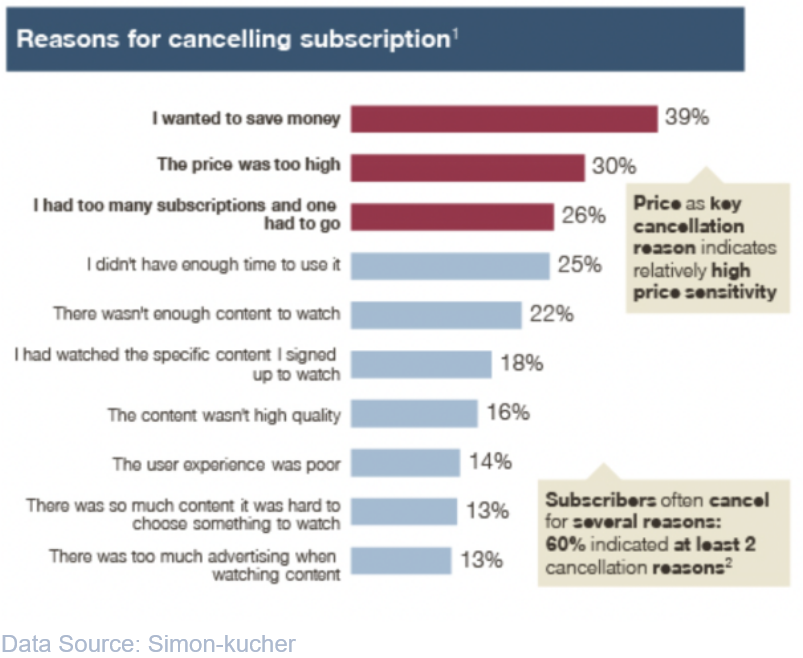 Latest Global Streaming Study, surveying more than 10,000 respondents worldwide, underlines the rising trend of subscription fatigue. Almost half of the respondents are not comfortable with the streaming subscriptions they own. In fact, 40 percent of users are likely to cancel a subscription within the next 6-8 months, especially in large streaming markets like China, India, and the US. Over a quarter of customers have already cancelled at least one subscription last year
What is the Way Forward?
As the number of OTT offerings continues to climb, the opportunity to manage the streaming subscriptions on behalf of users is likely to accelerate as well. OTT Streamers may address this complexity of subscription fatigue by allowing various rich engagement techniques like a section of Short Videos for users to experience personalised and engaging content discovery based on users' previous experience which may break their preconceived notions of what to watch.
Today the viewers expect OTT platforms to know them and help them through the search and discovery process. Various OTT apps are now experimenting with a short video section and community features including Netflix with Fast Laughs and You Tube with You Tube Shorts. Content recommendations drive 80% of shows watched on Netflix and account for 70% of YouTube views – easing the same via UGC reviews adds to holistic viewing also 31% of OTT users prefer personalised content recommendations & community suggestions/reviews as reasons to stay on a streaming app
In the most advanced way, Short video content provides a clean, intuitive way to find and consume content comfortably and engagingly. Engagement plugins are required to leverage the existing content and to enable UGC which can very easily introduce a short video feed with complete social features that allow users to scroll through a free section, increase advertising revenue and allowing apps to partner with brands on interesting solutions like challenges and auditions. It also allows users to discover highlights of the premium content and increase subscriptions.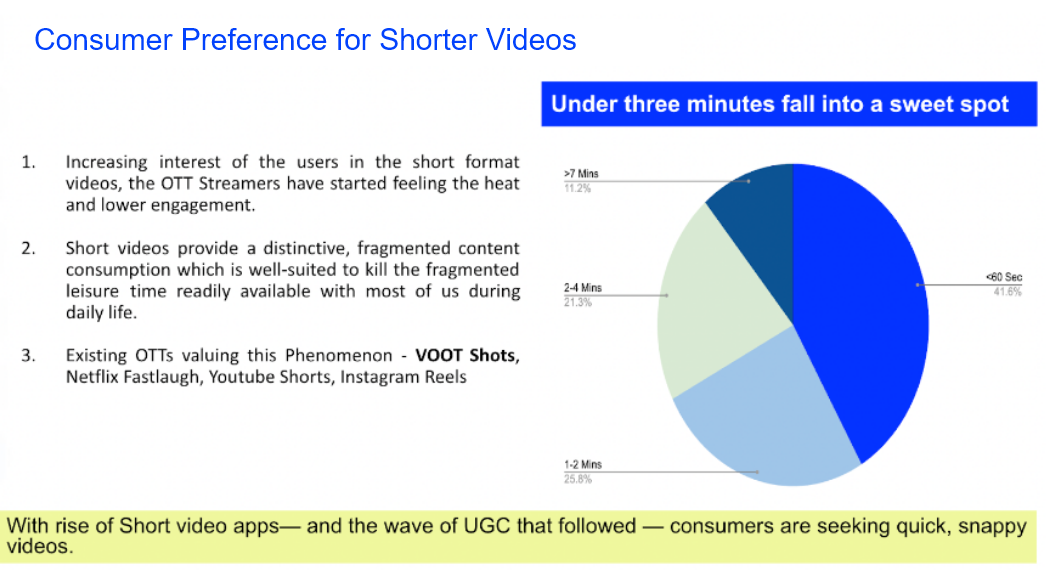 If you believe your OTT App can get better at handling subscription fatigue using content personalisation and Short Video engagement techniques and build a seamless immersive and social experience while streaming their favourite content online, It's high time you started investing in the right plug-and-play engagement tools.
References:
https://www.argoid.ai/blog/ott-streaming-consumption-trends
https://www.simon-kucher.com/en